Vero Edgecam Desinger 2020.0.1920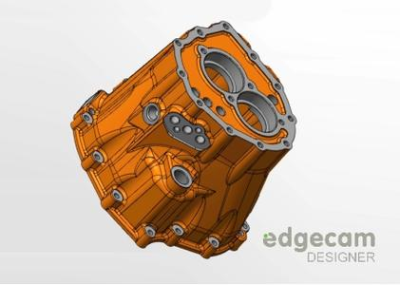 Vero Edgecam Desinger 2020.0.1920 | 1.0 Gb
Vero Software has released an update to EdgeCAM Designer 2020.0.1920. This solution fills the gap between CAD and CAM, and ultimate CAD solution for taking geometry through to manufacture, from fixture design, to part repair & modification.
- VERO-25284 Splashscreen: brandinfo.exe crashes in Korean language
- VERO-24862 Plotter Parameters: Designer crashes accessing 'Plotter style' tab
- VERO-19067 Add Portuguese Brazilian to Designer
- VERO-22026 Cuboid: Equidistant filter is ignored
- VERO-22442 The Combined pick mode is not correctly restored
- VERO-22796 Pure sketching commands - Improve the UI
- VERO-23886 Extrude command defaults to combined everytime a extrusion is applied
- VERO-24505 Command name and tooltip problems
- VERO-24654 Add elements to node in structure tree only works on EMPTY nodes
- VERO-24671 Curves and Polylines disappear in 2D Drawing environment
- VERO-24760 Missing labels cause wrong messages to be shown during customisation
- VERO-25120 Shifted application point when inserting a part on relative origin
- VERO-25181 Fill holes: First selection wrong then the next selection gives operation not possible
- VERO-25286 Splashscreen: "This product is license to %s" string incorrectly displayed
- VERO-25417 It is not possible to include a text entity in the 2D Drawing environment
- VERO-25513 Cannot open files with foreign characters in 2020.0
- VERO-25812 Update all language packs
- VERO-26150 Assert in Extend by length command
- VERO-24710 Page numbers are incorrect in 2d drawing
- VERO-24746 untranslated strings in message logs
- VERO-25322 Languages: Small fixes in PO files
- VERO-25596 copy paste of third-party solids still has colour problems
- VERO-25746 Languages: Small fixes in PO files (Portuguese)
Vero Software has launched a powerful new direct modelling system to fill the gap between CAD and CAM, focusing on the specific needs of machinist programmers.
As a stand-alone, optional application for its CAM portfolio, the newly-available Designer enables users to create new designs or modify existing geometry from third party CAD systems. Having this single and unified solution for solids-based designs gives Vero users the flexibility of receiving a CAD file from any source, for review or modification.
While Designer operates separately from the CAM system, there are triggers within it which will launch CAM, and there is full associativity between the two. "From fixture design to quick and easy part modification, Designer is truly the right CAD for CAM, by providing a full set of tools to fill the gap between the two."
Vero Software is a world leader in CAD CAM software with a proven track record of reliable product delivery. Vero develops and distributes software for aiding the design and manufacturing processes, providing solutions for the tooling, production engineering, sheet metal, metal fabrication, stone and woodworking industries. The company's world-renowned brands include Alphacam, Cabinet Vision, Edgecam, Machining STRATEGIST, PEPS, Radan, SMIRT, SURFCAM, VISI, and WorkNC, along with the production control MRP system Javelin. Despite the diversity of application, these solutions have one thing in common: they all address the rising challenges of achieving manufacturing efficiencies and bring huge value to the operations where they are deployed.
Vero EdgeCAM Designer
2020.0.1920.25111
x64
multilanguage
PC
Windows 7even or newer
1.0 Gb
DOWNLOAD LINKS :
Code:
https://rapidgator.net/file/8a800222a9328b8686e9affb6ca25ba7/62CFVakA_RoEdGR201920_des.part1.rar.html
https://rapidgator.net/file/da25f10aaaf944376ddb76ee0f34a46b/62CFVakA_RoEdGR201920_des.part2.rar.html
https://rapidgator.net/file/d0d759c0cdb629a66ee71158aaf6e5e6/62CFVakA_RoEdGR201920_des.part3.rar.html
https://rapidgator.net/file/135c1ef60a409f0d785664eea54d87d9/62CFVakA_RoEdGR201920_des.part4.rar.html

http://nitroflare.com/view/BB9D0BB59A7A6E7/62CFVakA_RoEdGR201920_des.part1.rar
http://nitroflare.com/view/2F0D323B3D7C155/62CFVakA_RoEdGR201920_des.part2.rar
http://nitroflare.com/view/D78FFDFE0D91143/62CFVakA_RoEdGR201920_des.part3.rar
http://nitroflare.com/view/02A3B914A5FAC30/62CFVakA_RoEdGR201920_des.part4.rar