Bob.Omb's Modified Win10PEx64 4.6 RS5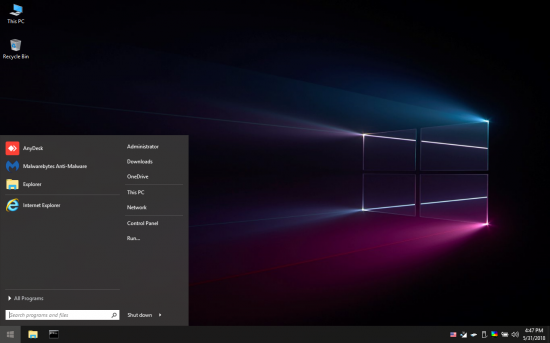 Bob.Omb's Modified Win10PEx64 4.6 RS5 | File size: 1.9 GB
This PE was designed not only to maintain and repair, but also to install XP/VISTA/7/8/8.1/10, provided that you prepare the drive you're using by following the ReadMe.txt. (You'll need to download and place the Windows install ISO's onto your drive, after burning it with Rufus). You can use this bootable USB to repair/backup/restore almost any modern computer, and most old ones too. (PC's/Mac's/Servers with RAID or ReFS volumes) Also included are ONLY reliable utilities. No clutter, this release was built with the intention of giving the end user all the tools they need, without all the extra nonsense. Easy to understand and use.
General Overview of Capabilities:
Backup / Restore hard disks and partitions
Convert Disks to VHD
Convert MBR Disks(CSM/Legacy) to GPT(UEFI/Secure Boot)
Test Hard Drives
Telnet / SSH / FTP
Registry Tools
Disk Defragmentation
File Hash MD5 and CRC checking
EXE and DLL Debugging tools
Automatic System Backup
Certified Disk Destruction and File Shredding
Ransomware File Decrypt
Hardware Diagnostic Software
WiFi Network Scanner
Syskey Removal
Duplicate File Removal
Recover Lost Data on PC/Mac/Linux Drives
Recover Product Keys for Windows and other Software
Remove malware and viruses
Install any Version of Windows
ReFS Formatting, and Read/Write, for Revision 3.3
Backup Drivers
Remote connect to other machines -or- this drive from anywhere
Reset Passwords (Including Microsoft Accounts)
Decrypt password protected files and drives
Integrated Java 10.0.1
Includes preloaded drivers for most modern Apple computers (Works on Macs!)
DirectX 12
Full .NET Framework 2.0 SP1 - 3.0 SP2 - 3.5 SP2 - 4.7.2
Powershell 5.1.17134.1
Powerful DISM repair tools
Change File Attributes & Date/Time Stamps
Whats New:
Added Magnify to StartMenu>Accessibility
Added EasyUEFI
Updated Macrium Reflect
Updated Rufus
Updated Malwarebytes Anti-Rootkit
Updated Malwarebytes 3
Updated ISO software
Updated Bootice
Updated EasyBCD
Updated ESET Online Scanner
Updated Anydesk
Updated FileZilla
Updated Pidgin
Updated WinSCP
Updated VLC
Updated OneDrive
Replaced MyUSBEjector with Hotswap!
Cleaned up system tray / Added OSK button to systray
Fixed an incorrect working directory for OSK shortcut
Fixed Remote Desktop connection credential GUI
Fixed Map Network Drive credential GUI
Fixed a bug where document software would crash when opened
Improved Pintool StartMenu shortcut creation performance
Improved hardware information detection
Improved data recovery
DOWNLOAD LINKS :
Code:
https://rapidgator.net/file/6e8908cb888bef18a0e303eb4b6724ac/Bob.Ombs.Modified.rar.html

http://nitroflare.com/view/B156B6693F225EC/Bob.Ombs.Modified.rar

https://turbobit.net/lorso3upr84f/Bob.Ombs.Modified.rar.html